Online personal training is definitely becoming more common. Especially in the Uk! You're given a tailored program that you have to do in order to achieve your goals. The obvious difference is the trainer isn't with you! I personally love having a personal trainer when working out – they always help me get those few extra reps!
There is quite a few positives to using an online personal trainer though. I've pointed out a couple below and you can let us know what you think!
Positives
1 – You get instant access to expert advice, there is PLENTY of well known fitness professionals out there who are offering an online version of their services. This is great because you can get training from some very well known fitness pros you wouldn't of been to able to get otherwise – for example training from a specialist who has a lot more knowledge than your average trainer.
Even still your local trainers can offer you amazing advice that will push you further into the right direction. I've seen guys in the gym who have been in there almost as much as me and made absolutely no changes compared to myself. The difference was, I had a coach by my side telling me the do's; don'ts and just generally giving me that boot up my arse that I needed.
2. Easy to ascertain a trainers s ability. You could take a few online sessions before you get the real session in the gym. Look at their reviews, mentions and check out their social media!
3. Less expensive. It is much cheaper as they can deliver courses/deal with more people online than they can in a 1/1 session – this means you get things cheaper obviously. When PTs online build a reputation up they can get busy extremely quickly and this leads to them increasing their pricing.
4. Flexible! It is much more flexible! having an online trainer means you can access your workout on your mobile at any time and usually trainers let you message them if u need advice/tips too. So you don't need to be restricted to gym times.
5. Extra support.  I touched on this earlier but most trainers do offer a way of providing additional support if u need it. Need help with your diet? are u struggling with an exercise? they are there to help you! and none of them should have a problem with giving u a bit of help. In my opinion any trainer who won't have any contact with you isn't worth it.
The Negatives
Bad form. There not with you so its impossible for them to know if you're performing an exercise right. This can reduce the effectiveness of the plan/workout and potentially cause injury.
Motivation. You don't feel like u actually have to turn up anymore… you don't have someone pushing you through tough workouts.
So what do you think? would you pay for an online PT or do you?
Let us know.
The next best thing would be Fitness DVDS – why not try some of these:-
Charlottes 3 min bum blitz – http://premiersportsandfitness.co.uk/product/charlottes-3-minute-bum-blitz-dvd-2015/
Davinas – Â http://premiersportsandfitness.co.uk/product/davina-5-week-fit-new-for-2016-dvd/
Scarlets -Â http://premiersportsandfitness.co.uk/product/scarletts-superslim-me-plan-dvd/
We all overindulge during the holidays. I'd like to say that I have an extra roast potato and a glass of sherry in the evening time but the truth is from the 23rd of December until the 3rd of January I consume my own weight in sugar, beer, fat, meat and chocolate. We all do it and why not the holidays are just that A HOLIDAY! You should take the time to spend time with your loved ones and relax but that doesn't mean you can get in some training in the meantime.
Don't let the holiday season ruin your motivation completely here are 8 tips about how to keep gaining and fit during the festive period.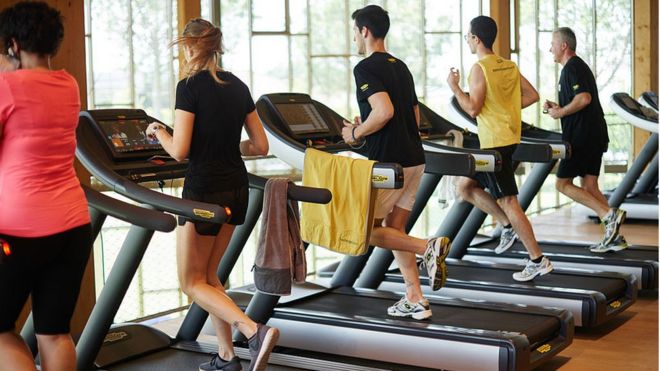 Plan
Christmas and new Year are the same day every year people. It's not like Easter that chops and changes every year. It's the 25th of December so there's no reason why you can plan ahead. Make sure you have everything in you need to. Buy in your protein early and everything you need to hit your macros. Rearrange the way you eat so instead of having that fry up first thing in the morning have a light breakfast and that way you won't feel as guilty when dinner time comes. That's the best way to keep yourself socialising with friends and not hitting the yorkshire pudding to hard.
Improvise
Sticking to your normal gym days during the holidays can be hard and you can't blame it all on the office Christmas party or your cousin you haven't seen for ages. Your hectic schedule is not an excuse. You can work out anywhere. There is no such thing as a bad workout except the workout that you don't do.  
Use your bodyweight. Crack out some sets of push ups. Dig that pull up bar out of the wardrobe. Get better acquainted with the burpee.
Go onto YouTube and check out some of the great home workout videos that are up there. You can work very single muscle group without using fancy equipment. I've seen some fantastic workouts that use two dining room chairs and a tea towel. If you find yourself with some free time you should pick up a copy of "Solitary Fitness" by the infamous Charles Bronson. Not only is it a fun read there is some fantastic and challenging workouts in there yuo can do in a 6ft by 8ft space and with no equipment.
Get Up of Your A*$e
When the holiday season is in full swing it's easy to get suckered into that habit of sitting in front of the fire watching Netflix and doing very little. If you couple that up with propping up the end of a bar during the weekdays then the fact of the matter is not only will you see some gains you don't want you will also be letting your motivation slip.
Download a step counting app or fire up that FitBit your Nan bought you for Christmas and make sure you are hitting that 10,000 steps. Do your very best to keep moving. Be the first person to help clean the table and the first person to offer to walk the dog. Your 10,000 steps are always one more odd job away.
Use the Weather
There's a song out there that says something about the weather outside being frightful and the fire being delightful. I can't quite remember how it goes. When it does get cold don't use it as an excuse to skip your cardio days. That cold snap is exactly what you need to help burn off some of those extra calories. So next time it's cold outside grab your tracksuit, a set of gloves and your trainers and let it snow, let it snow, let it snow.
Just be careful to try and stay vertical coming back from an injury is a lot harder than burning off a few holiday beers.
Water
Stay hydrated during the holidays. Don't replace your water intake with beer or wine which will ultimately dehydrate you anyway. Try and get in the habit of still hitting your two litres a day. Your body (and your hangover) will thank you for it!
Give HIIT a Go
High Intensity Interval Training will be your new best friend during the festive season. Try in get in the routine of doing a HIIt workout first thing in the morning for a couple of reasons.
It's high intensity so it won't take as long as your average gym session. You could be showered and back in your jammies in about 25 minutes time if you play your cards right.

Studies show that if you train first thing in the morning you are more likely to pay more attention to what you put in your body for the rest of the day. There's a little bit of sports psychology for you there.
Try Something New
It doesn't all have to be HIIT and burpees in your living room. Why not try something new. Give ice skating a go or find out where the nearest ski centre is. Worst comes to worst break out the Wii. Take your Uncle on at a game of tennis and make sure you beat him this time!
Plan Out The Year Ahead
Nothing will keep you motivated more than thinking about all they goals you are going to hit next year. Think into the future and think of the feeling you're going to have taking your shirt off while on the golden sands of Ibiza. Think about how good it is going to feel when you finally bench more 500lb. Get your goals laid out in your mindseye over the festive period and not only will you hit them it will give you the motivation to do a HIIT workout on Christmas Eve. It will give you the motivation you need to stop at the 7th pint of Guinness. It will give you the motivation you need to finally wipe the smug look off you Uncle's face when you beat him at Wii Tennis!
Take some if not all of these eight points on board and be fit, be healthy but most importantly be merry!
Our feet are a very important part, and it is that they rest the whole body weight so it is normal that at the end of the day, we feel or feel some discomfort in areas such as the plant or the heel. And a great way to relieve these ailments is through a good foot massage that exerts the necessary pressures to relax all the muscles of the feet. It is best to do it at night before going to sleep to notice, well, its effects the next day. Have a look this article carefully and follow step by step instructions, how to massage your feet.
You will need to:
Warm Water.
Towels
Cream or oil.
Foot Massage Instructions:
Before starting with foot massage, it is best to let them soak in warm water for about 10 minutes. So you will be completely clean and the massage will be much more pleasant.
After 10 minutes, dry your feet with a clean, dry towel and sit on a chair. In case the massage is for another person, ask him to lie on a stretcher or bed and put a towel just under his feet.
Now you should apply some cream or massage oil on your hands and rub them between them so that the product is heated slightly. Perform this step just before you spread the lotion over your feet.
Then start massaging a foot. Stroke the upper part by gentle movements that go from the fingers to the ankle and, once this is done, it descends until it reaches the sole of the foot. It is important that the intensity of the caresses is progressive, and go from more to less pressure.
After performing the different strokes, you have to make circular movements with the thumbs of your hands on the sole of the foot. Do it from the top or top down and regulating the pressure of the movement, i.e., making more pressure in areas such as the heel.
Then, hold the foot with one hand and with the other, gently twist it in both directions. Repeat this movement up to 4 times in each direction. Then, love it with your fist but always regulating the pressure you exerted so that it is not too intense or causes discomfort.
Then you have to press the foot with your fingertips. It starts from the big toe and continues through each of the fingers until it finishes with the little finger. The direction of movement is the same for each of the fingers, you have to start the movement by the base and apply a gentle pressure until you reach the tip of each finger.
When you have finished rubbing each of your fingers, again caress the instep and sole of the foot, applying less and less pressure. To finish the massage the feet, you just have to clean the cream or the oil used with a towel and leave it completely dry. Then, you must perform the same process with the other foot, and that's it!
Tips
It is important to massage slowly to relax.
You should be careful with people who do not have very good foot circulation, such as people who have diabetes.
When you finish the massage, wash your hands to avoid a possible fungal infection.
You may wish for buy a best foot massager too!
4 Best Adjustable Dumbbells to Maximise your workout
After long time researching I've finally found 4 Best Adjustable Dumbbells. Basically, exercise is the core part of our daily life. This is very true that all of want to be fitness and gorgeous looking but don't want to workout. We should not forget that without daily workout, no one can achieve fitness goal.
If we want to enjoy the beauty of the universe, first of all we have to exercise daily. Daily workout can makes a man perfect, fit, and healthy. Someone who want live long, he/she must have minimum primary idea about fitness by simply weight loss tips. This is the 21th century, everyone is conscious about himself/herself. So, why not about you?
For your good fitness, I've reviewed 4 best adjustable dumbbells that can be best for you.
Bowflex SelectTech 1090 Adjustable Dumbbell
Bowflex is a well-known manufacturer company in fitness related products field. No one can deny that Bowflex is one of the most popular fitness brands over the last decade for delivering some excellent exercise especially adjustable dumbbells.
Bowflex SelectTech 1090 Adjustable Dumbbell started their journey in 2011. This is perfect dumbbell for those who multiple dumbbells exercise in one's.  It is comes with multiple features, users can weight adjusts from 10 pounds up to 90 pounds. It also such a well-designed dumbbell that weight lifters can comfortable uses this dumbbell.
PowerBlock Sport 24 Pound Dumbbell Set
Before getting into details I want to let you know that PowerBlock Sport 24 Pound Dumbbell Set is one of the best seller dumbbell set on market. If you can't keep trust on, you may search on Google that what is the best adjustable dumbbell? Then easily you will get the answer. PowerBlock Dumbbell set are bit different than traditional dumbbells, they are more compact and well balanced then others.
PowerBlock Dumbbell is the most powerful, cost-effective, efficient strength training adjustable dumbbell. It comes with user-friendly many good features; users can Adjusts from 3 to 24 pounds in 3-pound increments. It has "Selector pin" which will help you to change the weights easily. Selector pin's are like weight stack at the gym. You will not need to worry about your wrist at the time of workout. PowerBlock Sport Dumbbell will protect your wrist through padded handle.
Universal Selected 445 Dumbbells and Stand
Universal Dumbbells and Stand is one of the best space saver Dumbbells and Stands that you will not need to think much about its storage. You can store this dumbbell anywhere in your home even at bedroom! It is featured with thermoplastic rubber handle to give you maximum comfort in your workout.
It is a beautiful, stylish, user-friendly and well-designed silver-and-grey colour dumbbell which matches its silver- coloured stand. Universal Dumbbells are most attractive and high demanding dumbbells on the market. You can adjust from 4 to 45 pounds, in 5 pound increments weight. You can rapidly switch from one exercise to the next through this dumbbell. You can put 9 sets or 18 individual dumbbells in its stand. Isn't it cool.
Starring 105 – 200 Lbs adjustable dumbbells
If you want to get best result in fitness exercise, then you will need to choose a perfect dumbbell that will help you to reach in your ultimate fitness goal. Starring adjustable dumbbell is one of those fitness equipment that will surely help you in your strength training. You will not need to buy couple of dumbbells, Starring 65 105 200 Lbs adjustable dumbbells offering you variety of weight exercise. It is one of "all in one" types dumbbell.
Starring dumbbells are made of Cast Iron Dumbbells Chrome Handles which will gives you extreme comfort while strength training. This dumbbell can be Set Up in Increments of 5 lbs; you can adjust from 5 lbs to 100 lbs for each dumbbell. You can set up this dumbbell easily, no instruments or others tools are required. Starring dumbbells came into market few years ago, but they already take place in top 1- position of adjustable dumbbells lists. When you are thinking about something new or different, then I would suggest Starring 65 105 200 Lbs adjustable dumbbells for variety of good reasons. This is perfect fitness kit on market.
Sustainability
Something i feel i have talked a lot about recently because of the importance i think it brings not just to training or dieting but in day to day life. I believe this should be one of the first things looked at before designing any sort of training or nutrition plan. Was going to write a big paragraph on this but i felt some bullet points on how to keep your training and dieting sustainable would get these points across more efficiently.
1) Do not use all your tools at once. By this I mean don't start off on endless amounts of cardio and weight sessions and put yourself on a massive calorie deficit at the start of your training plan especially if you are new to the gym.
2) Do not write up a training plan for 7 days/week when the reality is that you might only get to the gym 2/3 times.
3) Do not go cold turkey over things you enjoy.E.g You're used to a takeaway every week do not exclude this totally just have less often than once a week.
4) Make workouts enjoyable, find what you enjoy about training and put an emphasis on that. it might be boxing, taking part in classes, lifting weights, going out a run etc.
5) Have an idea in your head of any sort of goals you may have to work towards and motivate yourself. This could be doing your first ever pull up, fitting into a bridesmaid dress, breaking into the first team in any given team sport, squatting 100kg etc test are just a few ideas but everyone will be different.
6) Have a gym partner/trainer/coach/friend there to support you through your training and to bounce off on days you feel like giving up. (Massive one for me).
7) Most important one. Make sure whatever you're doing makes you happy.
Zac Efron's Official Workout DAY 1 Chest Shoulder Triceps
Workout plan consists of a 3 day split – back and biceps – Legs and Abs & also chest triceps and shoulders. 
But you do a little bit of abs each day
Monday – Chest first –
Dumbbells front raises – feel in front felt. Â lighten weight – try get 8 to 12 reps.. 3 sets.
Whats cool is this is a super set we then move onto cable side raises. This focuses on the side felt so we are working both the front Delt and the side Delt giving you a really good shoulder pump.  Like 3 sets is enough to get a good shoulder pump. We then move onto the bench press – lighten up the weight on it though. 8-12 reps and feeling it in the chest. Again this is a super set after the bench press you're straight into the push ups. Its solid! 
After the push ups you move onto the incline dumbell presses. Try get about 30 degrees on the bench. Focus on hitting your upper chest and really squeeze! this is a super set too after this you're straight onto the shoulder presses. Sitted or standing – Mix it up!. 
Really focus on controlling the muscle groups. 
Move onto Cable Flies next. Its not really a fly, its more of a press really.  8-12 reps! 
Triceps are up next! – You're working your tris through the full workout, they're constantly engaged so you only need to do this one exercise. You're super setting the Tricep Pushdowns with biceps curls too. 
So here it is again summarised! 
Every Exercise is 3 Sets of 8/12 reps. CONTROL THE WEIGHT
Also, everything is supersetted meaning doing two exercises in a row with no rest. 
Dumbell Front Raises SS Cable Lateral Side Raises

Bench Press/Dumbell Bench Press SS Push Ups

Incline Dumbell Press SS Shoulder Press

Cable Push/Fly SS Poly Half Ball Push UP Jumps

Tricep Rope Push Down SS Dumbell Bicep Curl
Looking for supplements to aid your training?
Protein –
THE PROTEIN WORKS, Whey Protein 80, Premium Grade Whey Protein Concentrate Shake, Apple Cinnamon Swirl – 2 kg
Myprotein Impact Whey Protein – Multiple Flavours – Powder – Pouch – 1kg, 2.5kg, 5kg
Zac Efrons workout and diet plan are making waves this Summer because of his incredible physique transformation preparing for Baywatch. Along side the Rock, Zac holds his own, having carved out a chiseled body by focusing on 7 key elements of his training and nutrition. Recently, Mens Fitness magazine published a story about the gains Efron made to get ready for his Summer comedy role.
In this video, I am breaking down the most important aspects of his diet plan and workouts to help you to start getting better results from your workouts heading into Summer. I'm also going to take a look back at a former most wanted celebrity body (that of Taylor Lautner) to see what went wrong and prevented his gains from being permanent.
First and foremost, it is worth noting that neither Zac Efron or Taylor Lautner are heavyweights. Both stand just 5 foot 10 inches tall and weigh no more than 170 pounds. To make his transformation for Baywatch, Efron gained just 10 pounds of lean muscle. The thing is, when you minimize your body fat levels and maximize the amount of muscle your body can naturally carry you look much bigger than you are. Both of these guys have mastered this.
That said, you cant expect to look better without being willing to put in some hard work along the way. Zac did just this by adopting more heavy weight training into his workout routine. He stated that he never had lifted very heavy or explosive before preparing for this film. A lot of people actually find themselves in a similar position either because they are uncomfortable lifting heavy or just dont have the base strength to be able to do it.
By increasing his strength levels on the basic compound lifts, Efron was able to start adding to his muscle density and thickness.
Next he followed a push, pull, legs training split. This workout sequence allows you to train your body more athletically since you train movements instead of individual muscles. The back and biceps are responsible for all lifts in which you pull the weight towards you or pull your body towards a fixed bar. Its impossible to isolate their actions so it helps to train them together to allow you more recovery time between workouts.
Daily ab training is another key to having the resting tone needed to showcase your abs year round (provided your diet and nutrition are in check). Zac Efrons diet is also covered here as well. By including a cheat day once in awhile, he is able to maintain his sanity and consistency required to keep his body fat levels low year round.
For a complete workout and nutrition plan to build athletic, ripped muscle like Zac Efron head to http://athleanx.com and get the ATHLEAN-X Training System. Get step by step workouts and a day by day meal plan to take all the guesswork out of your transformation.
For more celebrity workout videos and videos on how guys like Zac Efron build muscle fast, be sure to subscribe to our channel here on youtube at http://youtube.com/user/jdcav24
GIVE THIS A WATCH! 
Bicycle or running, which is better physical activity?
Train your body can be as simple as moving one foot and then the other. But do we put them on the pedal or use them to run?
Surely you are already bored of hearing that aerobic exercise is the best way to maintain good heart health and eliminate those fats that are overweight and resistant. Two popular activities within this type of sports are running and cycling. Both are practiced by most of us both indoors (as well as in Gym) and outdoors. For this reason it is important that we make a comparison of both exercises to know the entirety of them.
Cycling is a sport that develops on a bicycle, seated in the saddle. So the impact we have on muscles is lower than in the race. Which develops on the ground and muscles suffer more with each impact at take the stride. This is what cycling activity makes the stamina greater.  Since it is a sport of sustained energy, whereas the running is greater.
When it comes to gaining muscle, it is always more advisable to make a bicycle. Since the power needed to move with this device comes from our legs, specifically the buttocks, quadriceps and tendons. So it is a good way to keep the legs in perfect state. The race on its side is not a way to develop muscle. Since the effect is quite the opposite, because it is an exercise in which the whole body intervenes and the force is not obtained from a specific part.
But if we talk about burning calories, the running is the best option. Since it is precisely that movement and involvement of the whole body. That makes the work is greater than the one we develop on the bike when we practice cycling. For this reason cycling an activity in which we endure much more than in the race, since the requirements on the part of the organism are different.
In spite of everything, the bicycle is a much less harmful activity, since the legs follow a route prefixed by the machine. The only thing we should keep in mind is not to stretch the knee too much when getting down on the pedal so as not to injure us. In the race it is easier to do us damage, because in each stride we make an impact with the ground. To avoid this we must use comfortable running shoes that is able to absorb the impacts and subtract pressure to the joints of the leg to avoid injury so easily.
There is no better outdoor exercise than running or cycling. But between these two options, which one is the best? Sure there are opinions for all tastes, but consulted with many experts and asked them to highlight the pros and cons of each of the two disciplines.
To give an example, best folding treadmill activate more joints, but also burns more calories. In any case, take a look at the pros and cons and choose the option that you find most attractive.
To get in shape, bike
Bicycle
Develop resistance in the chair. Cycling is a low impact sport so you can put up with more time. It is a sustained energy training.
Running
Running does not improve energy so fast for one reason: it hurts. In fact, it causes your muscles to be damaged. It is not surprising that cyclists last longer.
To gain muscle, bike
Bicycle
The power in the bike is generated in the buttocks, the quadriceps and the tendons. So it will increase your muscle mass. Make trunk weights to avoid an imbalance with the upper body.
Running
You do not generate mass running, not even in mountain. In fact, you have to be crazy to try to gain mass by doing running. Running requires the effort of the whole body. Have you ever seen Schwarzenegger get stuck? Well, that.
To lose weight, running
Bicycle
Calories you lose in 30 minutes by bike: about 330 (depending on your weight). After all, you're sitting. If you are not supporting your own weight, you just do not work so hard.
Running
Only in 30 minutes on the tape you burn about 460 calories (for a weight of 80 kilos). Keep in mind that you will burn more if you run on rough terrain, like the sand on the beach.
To avoid injury, bicycle
Bicycle
Injuries every 1000 hours: 6
When pedaling, make sure your legs are not stretched at all to minimize injuries. As for serious falls, you will only suffer them once every 1,450,000 km by bike.
Running
Injuries per 1000 hours: 11
The impact of the shock compresses the vertebrae. Marathon runners lose one centimetre during the race.
Healthy nutrition is the key to long term health and happiness. That is why it is important to be aware of some of the most harmful dieting mistakes. Many people feel like they are consuming a rather healthy nutrition when in fact they are making some of the most common mistakes. In this article I will reveal several instances which go completely against a well balanced and healthy nutrition.
We are unable to tell the difference between good fats and bad fats. A lot of people are still not familiar with the difference between good and bad fats. Well, in a nut shell, the fats you want to avoid include saturated and Trans, the ones you want to consume include monounsaturated and polyunsaturated. The good sources of fat can be found in fish, avocados, nuts, soybeans, and canola oils.
We super-size our meals in order to save money. How many times have you been to a restaurant and found yourself paying two more dollars in order to get double the food. Almost all of us are guilty of doing this at one time or another. However, super-sizing a meal is not a money saver, it is a health bargain. You are barely increasing the size of your wallet, but you are definitely increasing the size of your waist.
We assume that anything liquid has no calories. Big mistake! Did you know that your 2000 calorie diet includes liquid calories? Be weary of fancy coffees, sodas, sugar laden juices and alcoholic beverages.
These three nutrition mistakes can lead us towards an unhealthy and unhappy lifestyle. if you want to lose weight you need to pay close attention to your diet and seek help from all natural diet pills.
Wow! Getting Six Pack Abs Electronically (EMS)
You don't have to spare time for exercises amidst your busy schedule. Now getting the six pack abs is made possible electronically. Electronic Muscle Stimulators are designed for those who wish to stay slim renouncing the unwanted muscles. The flexibility that it provides is the most impressive of all. It allows you to carry on with your work while exercising as the electronic muscle stimulators are strapped onto your body. Intriguing isn't? The article probes more into this amazing device. You may be the right person for it. Check it out.
This article covers
What is an electronic muscle stimulator?
How does an electronic muscle stimulator works?
Are they used for medical purposes?
Does EMS help in achieving six pack abs?
Are they subjected to regulation?
What you should consider before choosing EMS devices?
The best way to get free six pack abs is to exercise every day, but there is also an easy way to obtain the desired toned and muscled stomach. An electronic muscle stimulator will contract and expand muscles while you are busy doing other things. These devices are used by doctors to help people who sustained an injury to build up muscle strength again with minimal effort. There is however no real evidence that electronic muscle stimulators can sculpt the body or burn fat. Medical conditions that these stimulators are used for are:
Muscle Spasms
Muscle atrophy
Loss of motion in limbs and muscles due to injuries
How Do They Work?
The electronic muscle stimulator can be strapped on to the body and usually comes with electronic pads that are stuck to the body. These pads give off weak electronic shocks to the body and muscles lying under the skin, causing the muscle to contract.
Does EMS Help In Achieving Six Pack Abs?
An EMS can temporarily strengthen, tone or firm muscles, but EMS devices are not proven to cause weight loss, girth reduction, or a six pack" or "washboard" abs without exercise. Claims that electronic muscle stimulators will give users a slimmer waist or that the devices can help with fat loss have not been supported by tests.
The six pack abs exercises often combined with a six pack abs diet are still the surest way towards a healthy toned body and muscle will only build up with regular exercise, possibly supported by the use of an electronic muscle stimulator. Abdominal exercises like sit-ups and crunches may be less convenient and harder to do, but will give more and better results eventually.
Are Electronic Muscle Stimulators Regulated By The FDA?
As electronic muscle stimulators are considered to be medical devices the FDA is responsible for regulating the sale and safety of electrical muscle stimulators in the United States. Before any electronic muscles stimulators can be sold at all, the manufacturer has to make sure that the product meets the FDAs requirements for these devices.
The FDA mostly tests electrical muscle stimulators that are used in physical therapy and rehabilitation applied by doctors and physiotherapists. If a manufacturer sells EMS appliances to consumers the company needs to prove that the device can be used safely by consumers and the producer of the device needs to state exactly what the product can be used for and by whom. Often EMS device manuals state that the device is safe for use by anyone, which is really not the case. If a manufacturer says on the package that the device is sure to help you in getting 6 pack abs in a certain amount of time, they have to be able to prove that their device can actually do that.
Manufacturers that market EMS devices must demonstrate that their devices are as safe and as effective as other similar devices that have been approved and marketed.
Is It Unsafe To Use EMS Devices That Have Not Been Regulated By The FDA?
It does not have to be unsafe to use a product that has not been certified by the FDA, but there can be risks. There have been injuries and interference with other important medical devices is possible, so it is better not to use this equipment in a room where medical devices such as heart rate regulators are in use. There could be safety problems with cables and leads attached to the appliances that could lead to shock and electrocution of users. Getting your quickest 6 pack abs should be free of risk and improve your health instead of endangering you.
What You Should Consider Before Choosing EMS Devices
First of all you should make sure if you can actually use the device, since electronic shocks are used with these devices. If you are wearing medical equipment to regulate your heartbeat you should not be using these devices. Other things to consider are:
1. What does the device promise to do and does it sound realistic? Are free six pack abs actually possible?
2. Do some research about the device that you wish to buy, look online and read other peoples opinions about a particular device.
3. Find out about guarantees and warranties that come with your device.
4. Ask if you can try the product in the shop.
5. Talk to your doctor and ask if he or she can recommend any device in particular.